It's my Friday and I'll watch Netflix all night if I want to.
And I do. In honor of the beginning of football season, I will be binge-watching The League and Friday Night Lights. (I love you, Coach Taylor.)
I've already finished my bedtime routine. Yep, you read that right. Its 5:30 and I'm in my pajamas. No shame.
It's been a hard week.
For a short week, it sure was LONG!
My new second grade babies had to do CogAT testing this week. On Wednesday, I got a new student 5 minutes before CogAT started. On Thursday, I got another new student 5 minutes before CogAT started. Let's just say it's amazing how one student can change the whole dynamic of the class.
ALSO!
We have had 9 days of school and have been testing for 7 of them. And we will be testing next week. How RIDICULOUS that is and how SAD I am for these 7-year-olds. Better yet, we get to begin more state-mandated testing next week. Odd, I thought my title was TEACHer. I seriously won't have time to teach anything until October.
What'd you say, people who make education laws? I can't hear you from my soap box.
Now that I know my kids, I had to rearrange my desks! Whoever came up with using color-coded sticky notes in a manila folder to create and change seating charts, you are brilliant and I love you. I just tried this for the first time and I love it!
We got our writing folders ready this week. You can check out
this popular post
from last year about how I motivate my writers.
I taught my kids how to SCOOT this week. They loved it and they did such a great job. That means we should be scooting all year long! I really have a good group, for the most part.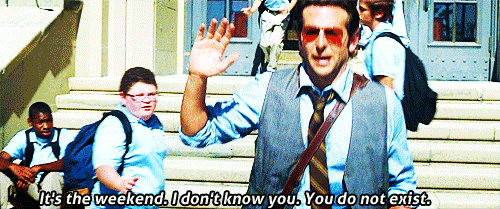 Again, it's just been such a long week.
Don't worry, I'm sure I'll be back soon with my fitting GIFs and terribly bad jokes. ;)